There was a man who loved tango.
His name is Edward.

Un hombre que amó el tango.
Su nombre es Eduardo.
He went to a Tango Class, in Charlotte, North Carolina and studied Tango under Daniel, a very good teacher.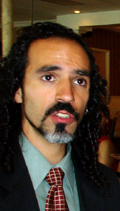 Él fue a una academia de Tango, en Charlotte, Carolina del Norte y estudió Tango bajo la dirección de Daniel, un profesor muy bueno.